The Booking Engine, that in Wubook is called "Online Reception", is the tool to sell directly from your website: an online booking "engine", a software that allows internet users to make a self-service booking directly from your website.
Through a widget, the customer can search for available accommodations by choosing dates, occupancy and number of rooms in a very simple and intuitive way. 

According to the selected parameters, the Booking Engine shows all the available solutions.
Obviously Wubook can also take care of your direct sale providing you with a state-of-the-art Booking Engine!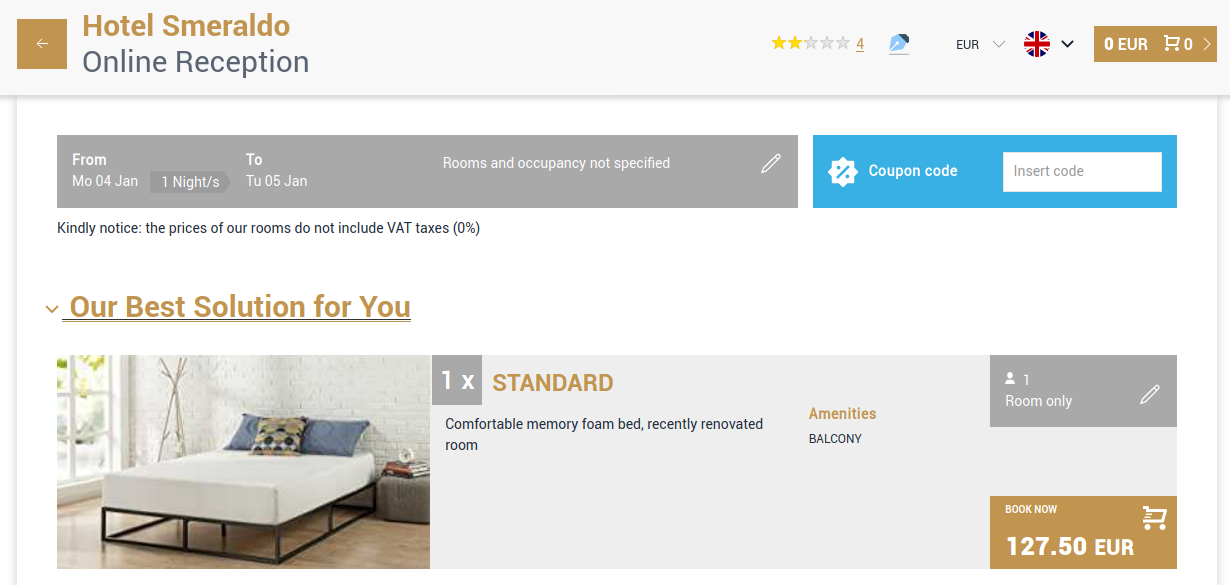 If you allow self-service online reservations, you will have to have a unique digital calendar, i.e. a centralized database for your availability and use a software that automatically updates all your online sales channels (website and any OTAs connected via Channel Manager) every time a booking event occurs (for example, a cancellation or a reservation that you insert manually).
The WuBook Booking Engine integrated inside the ZaK management system allows the automatic synchronization of the online inventory: if you are selling not only on your website but also on OTAs (Booking.com, Expedia), our technology simplifies the management of prices and availability, thus reducing the risk of overbooking and the working time.
☞ Docs: What is an OTA?
☞ Docs: What is a Channel Manager?
The most advanced Booking Engines also give you the possibility to book extra services and allow you to manage multiple rates, to create your own special offers and promotional packages.

The Online Reception of Wubook also allows you to contact the manager directly via phone or email as well as through various messaging channels such as WhatsApp, Telegram, Facebook Messenger. Viber, WeChat.
Having a BE is fundamental if you want to disintermediate, that is to offer your guests the possibility to book your accommodations without passing through the (expensive) intermediation of Online Agencies, the famous OTAs. 
Many users, once they find the property of interest on an OTA, then look for the property website to get more images and information and maybe a better price.
The presence on OTA portals generally allows you to have more visibility, not only on the OTA concerned but indirectly also on the property's website, thus improving the performance of your own Booking Engine and promoting disintermediation.

By simply offering on your site a more competitive price compared to OTAs, but also by using all the tools of an advanced Booking Engine such as the Online Reception of Wubook (Special Offers, Promotional Packages, Extras and Experiences, discount codes, etc.) your site will always be more competitive compared to OTAs, encouraging the guest to book directly rather than through OTA channels.
Advantages for the guest who books from the property's website through a Booking Engine:
direct contact with the property
advantageous economic conditions
greater commercial flexibility: special offers and dedicated packages
extra services bookable in advance, in self service
Advantages for the facility that uses a Booking Engine:
have a channel for direct bookings
greater competitiveness with OTAs
low and fixed cost lower than OTA commissions
synchronization with Channel Manager and PMS