What is it?


TripAdvisor is one of the most popular metasearchers: it collects feedback from guests and offers a price comparison service, also allowing to show a partner Booking Engine.
WuBook is a Certified Premium Partner of TripAdvisor and, via Fount technology, allows users to book at your property.
Costs and Business models
On WooDoo side you need to enable the TripAdvisor package (8€ per month).

On the other hand, on TripAdvisor you need to choose one of the two business models:
COST PER CLICK: the guest will be redirected to your WooDoo Online Reception to book.

INSTANT BOOKING: the guest can book directly on TripAdvisor page.

Both models must be enabled directly on your TripAdvisor profile.
How are models displayed on TripAdvisor?
For both models, you find the official site price and the "View deal" button. By clicking on it, you'll be redirected to the Online Reception (Cost Per Click) or you'll be able to book on TripAdvisor (Instant Booking):

Requirements before proceeding
You must already have an account on TripAdvisor. Make sure, in the Settings section, that WuBook is indicated as your Provider.
TripAdvisor package must be subscribed.

Your property information entered on TripAdvisor must match perfectly with that entered on WuBook. You can find more details at point 2, "Check property information".


Useful info
Wubook does not send TripAdvisor cancellations of reservations.

If the reservation is cancelled, the monthly cost is still generated in WuBook.

If your prices are not competitive enough compared to other channels on which you are selling, TripAdvisor may not show your property.

For the Instant Booking model, only travellers visiting Tripadvisor from the following countries will see the InstantBooking button on Tripadvisor: Australia, Canada, India, Ireland, Malaysia, New Zealand, Philippines, Singapore, South Africa, United Kingdom, United States.

Inside the configuration page on WooDoo, you will find the "Preview as a guest" button to check how the Online Reception appears to those who book from TripAdvisor:

How to enable TripAdvisor?
Let's now see one by one the steps to enable TripAdvisor.
1. Subscription on TripAdvisor and WuBook

The activation is done fully on TripAdvisor. You must create a profile on TripAdvisor and indicate WuBook as your provider. Then activate one of the two models. On WooDoo you will only need to enable the specific package:
↳ Useful Link: WooDoo > Home > WooDoo Subscriptions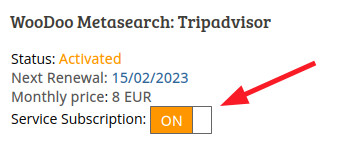 2. Business information control
By default, we will send TripAdvisor the information about your property that you entered in the following menu:
↳ Useful Link: Administration > Properties > Property Information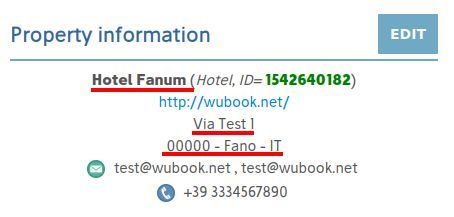 ! ATTENTION: As mentioned above, the property information entered on Trivago must match with those entered on WuBook in this page.


3. End
At this point you will have completed the activation of TripAdvisor. You will have to wait about a week for your property to be displayed and bookable on TripAdvisor.
How to disable Trivago?
The deactivation must be done on TripAdvisor. On WooDoo you just need to set the package OFF.
What to check if TripAdvisor is not working?
Are property info on WuBook equal to those on TripAdvisor? Did you enter coordinates too? (see point 2)
Did you enable of of the two models on TripAdvisor? Do you have an active campaign?
Is WuBook set as Provider on your TripAdvisor profile?
Did you wait at leat one week after the activation?
Is the TripAdvisor package subscribed on WooDoo?