With WooDoo you can sell your accommodations from your Booking Engine, with different treatments (boards): Half Board, Full Board, No Board and Bed&Breakfast. The user can select a board from the drop-down menu.
☞ Docs: Online Reception - WooDoo
You can define Boards on the Room Detail page. While creating a room or virtual room, the standard board is indicated.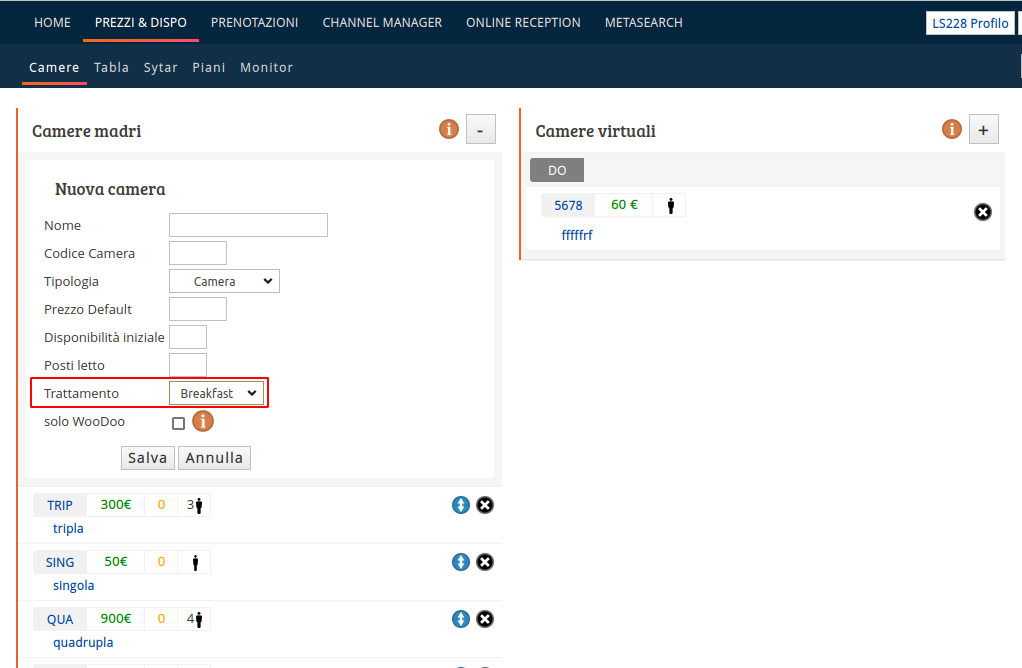 Once the room has been created, by accessing its detail it will be possible to define further treatments that will be reported in the Online Reception in step 1 of room selection.

↳ Useful Link: Auth Factory > WooDoo > Rates > Rooms

☞ Docs: How to create a room - WooDoo
☞ Docs: Virtual Room


Defining a board


The price of the room with standard board is predefined in the various rate plans or in the standard WuBook Parity plan. The price of the optional board is defined through a "change" compared to the price with standard board. By "change" we mean an increase or decrease of a percentage or a fixed value.
☞ Docs: Rate Plans

If you want you can apply a board to one or more periods of time. If you don't specify a period, the board is always visible and can be purchased, but by clicking on this link you can access the functionality that allows you to add different periods to the boards.
Boards and virtual rooms


For the management of treatments/boards the use of the virtual room is a very flexible solution. You can assign to a virtual room the price you want day by day, as well as you can close and open it independently and also assign it a min. stay or another restriction. (For example in high season you might want to close only the Half Board treatment leaving the other treatments/boards open).
If you have chosen to manage treatments/boards with virtual rooms so that you are free to define their prices, but you also want the restrictions to be defined by the main room (or the opposite), remember that WooDoo has the anchorage tool, which allows you to automatically define prices or restrictions of one room starting from those defined in another.