WuBook provides you with some additional features that can be activated if necessary. Such features are available in the form of plugins. Many are free, some have a one-time cost, others are available for free but then have a use-charge.

The plugins can be activated and configured by accessing the section below:
↳ Link : Auth Factory > WuBook/WooDoo > Home > Plugins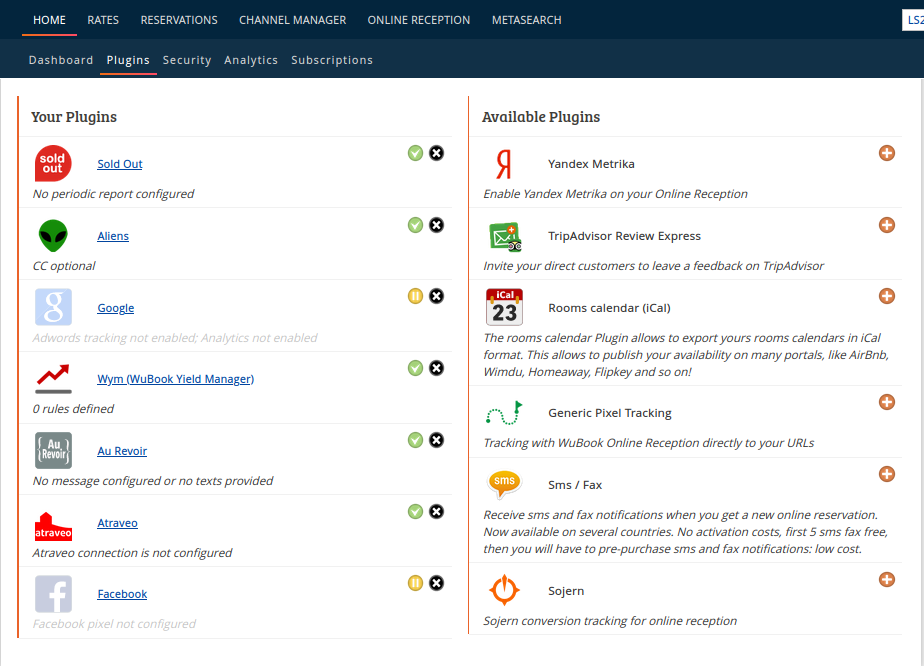 On the right side of the page you will find the available Plugins and on the left side those added to your personal list.

☞ Docs: In-depth articles about Plugins
Rooms calendar: For connecting to various ota with the iCal protocol.
Sms + fax: To receive notifications also via sms and/or fax.
TripAdvisor Review Express: To invite customers to leave a feedback on TripAdvisor.
Atraveo: To connect with the Atraveo portal.
Au Revoir: To send emails to your customers.
Sold Out: To be informed when all rooms are occupied.
Yandex Metrika: To use Yandex statistics on WuBook online reception.
Eurota: To join any Ota using WuBook technologies.
Alien: Allows to enter reservations on WuBook remotely.
Google Analytics: To obtain analytics data on your online reception.
WuBook Yield Manager: To change prices automatically according to availability.
Libra: To notify reservations on Libra