The ZaK PMS can be synchronized with Woodoo-Channel Manager and WooDoo-Booking Engine .
Our PMS Zak has its native Booking Engine and a Channel Manager integrated with the most important channels.
However,
if you are a long-time customer and you still have your Booking Engine on WooDoo,
or you have some channels active on Woodoo, and you want to use also our PMS,
you need to activate the synchronization between Zak and WooDoo. 
In this way, you can manage from Zak all the reservations received by Woodoo. Besides, you can set your prices, restrictions, and availability directly from Zak.


What happens when you activate the connection between Zak and WooDoo?
Zak automatically manages the room availability on the Booking Engine and all the connected OTAs. The availability sent by Zak matches the actual availability of your rooms. If you want, you can decrease it (or increase it) for online marketing actions.
When you change prices and restrictions on ZaK, they will be updated on the Booking Engine and connected OTAs.
All reservations received on the Booking Engine or an OTA connected to the Channel manager are integrated on ZaK.
This connection is very convenient. It allows you to work daily only on the ZaK PMS and access WooDoo from time to time, only if you want to change some channels or Booking Engine settings. For example, if you're going to add special offers, reconfigure the channel manager's channels, change rates derivations, etc.

You can connect ZaK and WooDOo from the Zak's section > Online > Channels.

The connection with WooDoo shares the global settings with the active channels on Zak Channel Manager. These include the activation of the algorithm that automatically assigns the physical room to the reservation.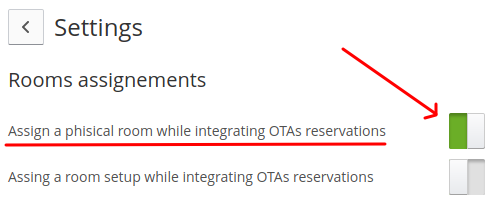 This algorithm is based on two main criteria:

it automatically assigns a "suitable" physical room, i.e., one that can contain the number and type of guests required (adults, children);
it optimizes the space trying to "assign" the stays on as few rooms as possible to leave the other rooms with long free periods.
☞ Docs: Physical rooms
Importing price and restrictions inventory from Wubook
If you are already using WooDOo and have already set the price lists during the first channel configuration, you can import prices and restrictions from WooDoo.
To do this, you have to go to the WooDoo channel configuration page and click on > Import. It is necessary to make a pre-mapping of rooms and rates between Zak and WooDOo so that Zak can correctly import the WooDOo values.

NB: if you don't do this step first, and directly map rooms and rates in the section > Disconnected Products, Zak's prices and restrictions will overwrite WooDoo's ones!
After you have done this preliminary mapping and imported the inventory, you can proceed with the actual mapping, as described below.
Associating room categories and rates
You have to associate with each WooDoo category that you want to update, the respective ZaK category. This association allows ZaK to update the availability of the proper WooDOo room and assign rooms to the reservations downloaded from WooDoo.
You have to associate with the rates you have created on Zak, the corresponding combination of rates and restrictions on WooDoo.
While on Zak, each rate includes its own set of restrictions, on WooDoo rate plans and restrictions plans are separated and can be combined as you like. Be careful to associate the correct combinations of rate plans and restrictions plans, i.e., those used on WooDoo.
☞ Docs: Room Categories

ZaK calculates the availability of a room category according to free rooms on the Planner. Pending reservations, even if not assigned to a physical room, still affect the room category availability.
☞ Docs:Pending Reservations
Canceled, No-Show, In Offer, and expired Option reservations (i.e., with an expiration date in the past) do not affect availability.

If you leave some WooDoo products disconnected during the mapping procedure, these will not be closed on WooDoo. Still, they will not be updated on Zak. You can manage them directly from WooDoo.
Importing the reservations archive from WooDoo
If you are already using WooDoo and have already received reservations through your Booking Engine or from OTAs connected with the Channel Manager, you can also import the  reservations archive from WooDoo.
After mapping and connecting some of your Zak products to WooDoo, you can go back to the section > Import to import the existing reservations archive in WooDoo.

Let's make a recap of the steps to do, in their right order, if you are already using WooDoo and you want to import into Zak existing prices, restrictions and reservations:
In the section > Import, you have to make the preliminary mapping and import your inventory (prices and rates) from WooDoo.
In the section > Disconnected Products, you have to make the mapping of the WooDoo rooms and rates you want to manage from Zak.
In the section > Import, you can import the reservation archive from WooDoo.