In this section, you can create the predefined Extras that you can add to the reservation page. You can configure your extras at the following section:

↳ Useful Link: ZaK > Products > Extra
1. How to create an Extra

To create a new extra, click on the + next to "Available Extras" and fill in the following data:
name
price
vat
availability: how many availabilities do you have for that extra?

Level, which can be:
- una tantum: the indicated price is paid only once
- per person: the indicated price will be added for each guest in the booking

- per room: the indicated price will be added for each room of the reservation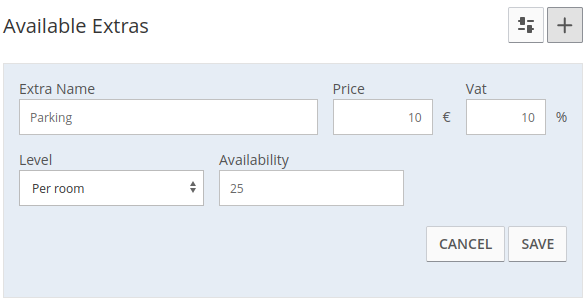 2. How to assign an Extra to a reservation


Within a reservation, you can add one or more extras manually. To do it, just click on the 'EXTRA' section. You will see extras already added or you can add a new one by clicking on the +. You can either choose an extra from those you have already created, or create a new one. In both cases, the price of the extra can be customized.