An agency provides reservations for accommodation properties. An agency can be considered an OTA l (such as Booking.com), as well as a travel agency, an association etc. etc.
It is useful to define your reservations by agency of origin. This way, you can recognize at a glance if a reservation has entered through an agency, not to mention the usefulness of statistical data to assess the "productivity" of the agencies you work with. The agencies registered on ZaK are accessible through the section > Customers > Agencies.
☞ Docs: What is an OTA?
↳ Useful Link: ZaK > Customers > Agencies

1) Creating a new Agency
1. Booking portals
If you use the WooDoo Channel Manager and the connection with WooDOo is set to automatically download reservations, when you receive the first reservation from an OTA, the system automatically creates the corresponding agency (eg: Booking.com). Subsequently, each reservation that enters from that OTA, will be automatically associated to the corresponding agency.
☞ Docs: WooDoo Channel Manager
☞ Docs: ZaK - Connection with WooDoo
2. Other agencies
You can also create agencies manually if they do not correspond to portals connected to your Channel Manager. In this case, of course, you must assign an agency to a reservation manually, from the reservation detail. Each agency is assigned a color (customizable), so that in the Planner the reservations are highlighted with the specific agency color.

To create a new agency, just click on the NEW AGENCY button and then define the details.


☞ Docs: ZaK F.A.Q. - How to use colors?

☞ Docs: ZaK - Planner

In addition to the colour, it is also possible to configure information about that agency, billing details, VAT, commissions and any notes.

NOTE: About the commissions, we'd like to point out that they won't be automatically added while issuing an invoice, it is just a section where you can enter this information as a remind for you. It is a sort of "reminder".

Next to DETAILS, you will find 4 other sections dedicated to each agency:
BALANCE: history of all reservations received by that agency, with the specific data (rooms, total, unpaid, services, etc.)
SCHEDULED PAYMENTS: payments recorded with a future date, still to be paid
LAST RESERVATIONS: most recent reservations received by that agency in the last 3 months
CUSTOMERS: customers of recent reservations from that corporate
2) How to assign an Agency to a reservation
You can assign an agency to a reservation, when creating a new reservation on YouBook, by clicking on the pencil near "Reservation Details". You'll be able to enter various data, included the Agency.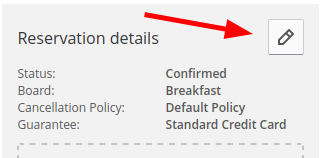 In case you want to associate an Agency at a later time, you can do it from the Reservation detail, by clicking the icon

. You can then select an agency from those you have previously created: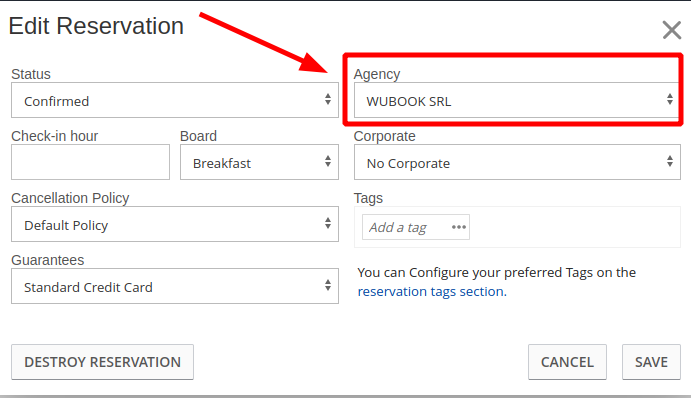 Finally, when issuing an invoice for a reservation, you can choose the invoice holder: a guest or an agency. You can choose an agency already registered or enter a new one.