What is it?
Trivago is an important international metasearcher. Through WooDoo technologies it is possible to activate a promotional campaign on Trivago. In this way your website will appear on Trivago too. In addition, the connection will allow you to integrate on WooDoo the reservations of the portal and to update prices, restrictions and availability, all automatically.
Costs and Business models
On the WooDoo side, you need to enable the Trivago package (8€ per month).
On the Trivago side, there is just one business models that you can enable:
FAST CONNECT: the guest will be redirected to your WooDoo Online Reception to book.
Then on Trivago, for the Fast Connect, you can choose among two options: Cost Per Acquisition (CPA) or Cost Per Click (CPC).
What to check before proceeding
Make sure, in your Trivago account, that WuBook is indicated as your Provider.
If you enabled the 8€ Trivago package, then it is NOT necessary that the Booking Engine is ON. The important thing is that it is configured.
Make sure that rooms, extras and special offers have names and descriptions translated. In this way, you can take full advantage of the visibility (at international level) provided by Trivago and convert as much as possible.
Your property information entered on Trivago must match with that entered on WuBook. You can find more details at point 3, "Business Information Control".
What to know before proceeding
When a reservation is cancelled, WooDoo sends the information to Trivago.
Trivago takes from WooDoo also cancellation policies (only default ones, NOT those with custom text).
How to enable Trivago?
Let's see now the steps to proceed with the activation.
1. Subscription in Trivago
The activation is done fully on Trivago. You must create a profile on Trivago and indicate WuBook as your provider. Then activate the Fast Connect model on Trivago and one of the two options (CPA or CPC). On WooDoo you will only need to enable the specific package: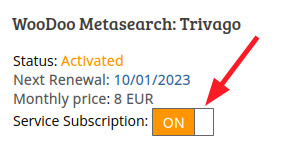 2. Business information control
By default, we will send Trivago the information about your property that you entered in the following menu:
↳ Useful Link: Administration > Properties > Property Information
! ATTENTION: As mentioned above, the property information entered on Trivago must match with those entered on WuBook in this page.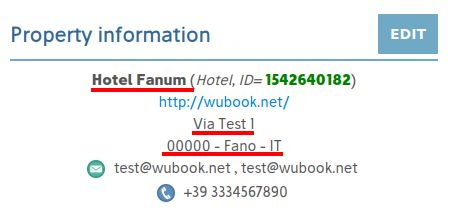 3. End
You have now correctly activated Trivago, all you have to do is wait! If after 15 days you are still not visible on Trivago, you can contact our Support for a check. But first, please check all the information above under "What to check before proceeding".
How to disable Trivago?
The deactivation must be done on Trivago. On WooDoo you just need to set the package OFF.